Submit a nomination now
BC Dairy Achievement Awards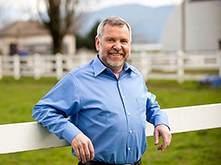 John van Dongen: John's parents immigrated from Holland in 1949. John was born in Canada on December 13, 1949. The oldest of the seven children, he was raised on his family dairy farm, first in Pitt Meadows and then in Delta.

John holds a Bachelor of Science degree in Agricultural Economics from the University of BC. In 1975, John started his dairy farm, first in Dewdney and then on Matsqui Prairie.

In 1979, John was elected to the Board of Directors of the Fraser Valley Milk Producers' Association serving for a time as Vice President. John served on the BC Dairy Foundation, the BC Dairymen's Federation and the Federal Farm Debt Review Board.

John served on the Agrifoods International Cooperative Ltd board until 1993.

During the challenges to the supply management by the dissident dairy shippers in the 1980s, John worked tirelessly to resolve the issue. His initiative made a significant contribution to ending those threats to supply management.

John was first elected to the Provincial Legislature in 1995 in a by-election and was re-elected in 1996, 2001, 2005 and 2009.

In Opposition, John served as Agriculture and Fisheries Critic and sat on the Select Standing Committees on Agriculture and Fisheries and Crown Corporations.

In Government, John served as Minister of Agriculture, Food and Fisheries, Minister of State for Intergovernmental Relations, Minister of Public Safety and Solicitor-General, Caucus Whip, Member of the Parliamentary Committee on Finance and Government Services and Chair of the Caucus Committee on Government Restructuring. When he retired from politics in 2013, John was one of the longest serving MLAs in the BC Legislature.

John lives in Abbotsford with his wife Sherri and stepson Lukas. He is also the father of two sons and has two grandchildren. He continues to operate his own successful dairy farm.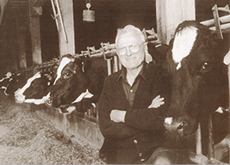 John Pendray has been a strong leader in the dairy industry in BC serving as of President of Island Farms Co-operative which he led with distinction for 30 years.

John Peters Pendray was born May 15, 1925 on the first "Pendray Farm" - in a farmhouse that still stands today at Swan Lake. John's parents were Saanich pioneers and involved all four children in the family farm. When farm help was scarce during the Second World War, John was faced with the difficult choice of pursuing his education or continuing the family milk delivery business. With his usual fortitude, he did both. He started at 4:00 am and completed half his deliveries, then completed the deliveries after school. His long days continued when he joined the University Air Training Corp while attending Victoria College and working on the farm. John knew instinctively that in order to keep farming viable he had to be flexible and innovative. He embraced technology, veterinary and soil science, and sound business practices.

John has been described as an ambassador for farming. He emphasized the importance of education and would always take the time out of his busy days to give tours for school children and foreign students. Dairy farming is a way of life for generations of Pendrays and that way of life is centered on the family. John married Joyce, the love of his life, in 1948 and they raised four wonderful children. Along with building one of the very successful dairy farms on Vancouver Island, one of John's proudest accomplishments has been the success of Island Farms Co-operative. As President, John always exhibited the strength of character that made him distinctive and successful. His skill in motivating others by co-operation and mutual understanding has been widely acknowledged in the industry. In recognition of good farming and outstanding community leadership, the BC Institute of Agrologists honoured him by naming him as Agriculturist of the Year in 1985. He has since served as a member of the BC Dairy Foundation, focusing and emphasizing both provincial and national strategies for dairy farming. John was an early member of our BC Dairy Historical Society and faithfully attended our meetings and championed our projects.

In recent years John served on the Board of Directors for the ALS Society of BC. In 2010 John received the ALS Canada Advocacy Award.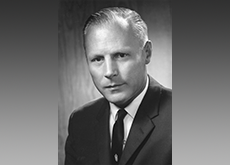 Neil Gray retired from the Fraser Valley Milk Producers' Cooperative Association on January 31, 1986, after serving the Association and the industry for over 45 years. Mr. Gray joined the staff in 1940 as a Laboratory Technician at the Eighth Avenue plant in Vancouver. After serving overseas with the Canadian Army, he completed his requirements for a BSA degree at U.B.C. in 1946.

He rejoined the Association as Plant Bacteriologist and Fieldman at the Sardis Utility Plant and in 1947 was made Chief Bacteriologist, a position he held for ten years. In 1957 Neil left the Association to take a post as sales representative for the Creamery Package Manufacturing Co. and in 1960 returned as Manager of Shannon Dairies, a subsidiary at that time. In 1964 he became the Marketing Manager for FVMPA, for Dairyland, Pacific, and Arctic Ice Cream products. He was named Assistant General Manager in 1967 and appointed General Manager in February of 1975. During his eleven years as General Manager, the FVMPA underwent a major expansion of operations with a significant internal development of productivity and budgets. Dutch Dairies was purchased in 1977 producing cheddar cheese under the Armstrong brand. The mainland operations of Silverwood Industries Ltd. were acquired in 1981 combining operations and establishing a dedicated plant for ice cream production.

Mr. Gray over the the construction of the Abbotsford Cheese plant and the Milk Processing plants at Courtenay and Smithers.

Mr. Gray was active in the National Dairy Council of Canada, serving as a director for many years and as its Chairman in 1977-78. He served a member of the Canadian Dairy Commission's Consultative Committee. He was honored in April 1985 by the Dairy Bureau of Canada with a gold medal to recognize significant contribution to the dairy industry of Canada. He was instrumental in the establishment of both the B.C. Dairy Foundation and the B.C. Dairy Council, serving as the President of Council during 1973 and 1974.

His dedication to the B.C. and Canadian Dairy Industry has provided this Association with leadership of the highest level. His many friends and associates wish him a long and happy retirement. Neil was a driving force for preserving the heritage of the dairy industry in BC by ensuring the historic materials, including the bound editions of the Butter-Fat magazine and the Clymber Murals, were put into the care of the BC Dairy Historical Society. These materials are a major part of the BCDHS archives and website.